OUR HISTORY
Established in 1997, Atlas Handling UK Ltd is a major importer and exporter of industrial UK castors and wheels based in Redditch, Worcestershire.
Managed and directed by Paul for over 20 years, Atlas Handling UK offers solutions for a variety of applications. We supply both commercial and industrial sectors whilst offering competitive prices for those needing an individual product.
---
OUR MISSION
We focus on the important details: providing our customers with excellent quality products at exceptional value for money, whilst offering world-class customer support.
We achieve our mission through high standards of quality control and a dedicated team of experts. Through our knowledge and expertise, Atlas Handling UK is one of the biggest and best suppliers of wheels and castors within the UK.
In the warehouse
Our dedicated warehouse team closely tracks stock availability and quality, ensuring our customers receive the best products on the market.
We sell only the best, with every wheel and castor individually checked, constructed, packaged, and signed off by a member of our team.
We conduct quality and performance tests on all new stock arriving within our warehouse. In the rare time a product doesn't meet our standards, we stop all immediate sales on our website and e-stores. We also communicate directly with any potential customers to advise of the issues, working closely with them to ensure the best resolution is found.
We pride ourselves on being open and honest about our products and work hard to ensure we exceed customer expectations whilst keeping our high service standards.
Working alongside the warehouse team, our office staff oversees the sales, accounts, marketing, and customer-facing details of the company.
With their extensive knowledge of our product range, they play a pivotal role in helping customers with any questions or queries. The team can help determine the best wheel or castor for a specific problem and work closely with customers who require bespoke solutions to ensure their needs are met.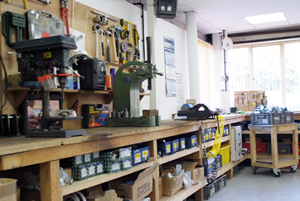 ---
If you would like to chat to our team, please connect with us:
Tel: 01527 506 702
Fax: 01527 520 156
Email: sales@atlashandlinguk.co.uk
Visit our trade counter at: Palmers Road, East Moons Moat, Redditch, B98 0RF